Quarterly sales of electronic devices designed to be worn on the wrist jumped more than a quarter in a year. This is evidenced by recent statistics from the International Data Corporation (IDC).

The data includes shipments of smartwatches of various types (with basic and advanced functionality), as well as various fitness bracelets.

Between April and June inclusive, 34.2 million electronic devices designed to be worn on the wrist were sold globally. This is 28.8% more compared to the result for the second quarter of 2018 when deliveries amounted to 26.6 million units.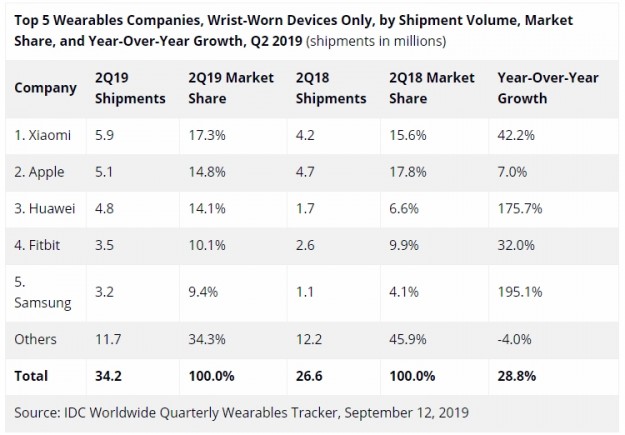 The largest player in the market is the Chinese Xiaomi with 5.9 million gadgets sold per quarter. This corresponds to a share of 17.3%.

In second place is Apple, which shipped 5.1 million devices: the company occupies 14.8% of the industry. Huawei closes the top three with deliveries of 4.8 million units and 14.1% of the global market.

It is predicted that, according to the results of the current year, the industry volume as a whole will reach 152.7 million units, having risen by 21.7% compared to 2018. In 2023, supplies may amount to 194.1 million units.